[JEU-CONCOURS]
Les représentations graphiques de chaque chanson de l'album Partitions (December Square) traduisent des notions de hauteur, d'harmonie, de rythme, d'interprète… avec notamment une couleur associée à un même accord tout au long du disque. Mais il semble que ces schémas chromatiques inspirent d'autres visions (animaux, paysages, sentiments…), tels des tests de Rorschach. Ainsi, nous faisons gagner des livrets du vinyle de Partitions à celles et ceux qui enverront (à orouni@orouni.net) les propositions les plus poétiques, imaginatives et personnelles. Ce livret, réalisé en collaboration avec Pascal Blua, rassemble tous les diagrammes, leurs indices et le nuancier qui fait correspondre chaque teinte à chaque harmonie. Le message considéré comme le meilleur par le jury selon ces critères (toutes chansons confondues) gagnera un vinyle du disque.
Récapitulatif des schémas déjà disponibles sur lesquels vous pouvez donner libre cours à votre imagination :
1. Decomposition
2. Former Lorry Driver
3. The Lives Of Elevators
4. Charles And Sylvester
5. Nora
6. No News Is Bad News
7. Henriette Pivots
Les autres seront publiés régulièrement jusqu'à la fin de l'année, comme un calendrier de l'avent appelé nuancier de l'après.
[AUJOURD'HUI]
Schéma chromatique n° 8 : Aloysius
« Elle ne se souvient plus qu'il faut chanter le deuxième refrain. Puis elle oublie la suite d'accords du premier thème, alors elle en invente trois nouvelles. »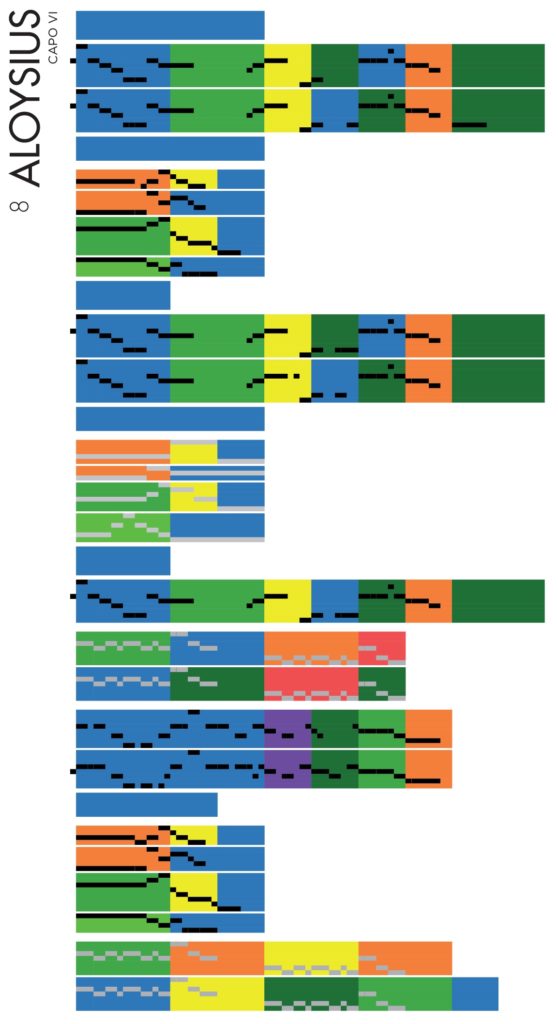 ***
[CONTEST]
Partitions' visual representations give hints about pitch, harmony or rhythm for each song, a colour being associated with the same chord all along the album.
Nevertheless, these diagrams seem to inspire other things (animals, landscapes, feelings), like Rorschach tests. That's why we invite you to send messages to orouni@orouni.net: the most poetic, inventive and personal ones will receive the album booklet. Conceived with Pascal Blua and December Square, it contains all the chromatic diagrams, clues, and the colour chart that matches each hue with its harmony. The best message will win a vinyl.
Some diagrams are already available, feel free to write us what they evoke for you.
The other representations will be posted before the end of the year, a bit like an advent calendar.
[TODAY]
Chromatic diagram #8: Aloysius
"She doesn't remember that she has to sing the second chorus. Then she forgets the first theme's chord progression, so she comes up with three new ones."